Dr Bhavendu D. L, Thiruvananthapuram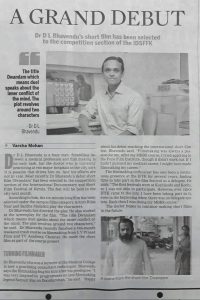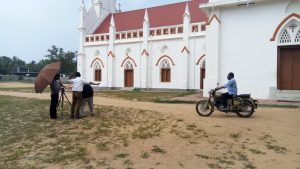 Interview by Dr. Maggie Xavier with Dr D L Bhavendhu—a passionate filmmaker.
Q: Sir can you tell us briefly about yourself?
A: I am  from Thiruvananthapuram
I did my MBBS and DMRD and DNB from Thiruvananthapuram medical College, Worked as adhoc Lecturer in Medical college hospital, Thiruvananthapuram. [ 2005—2012]. Now working as Cons; Radiologist  at Ananthapuri Hospitals Thiruvananthapuram past 6 yrs
Q: In which modalities are you interested in?
A: I work in all modalities
Q: What are your areas of special interest?
A: Passionate about world cinema. Hobbies are photography, music and reading.
Q: Can you say something about your achievements?
A: First short film got selection in the competition section of the International Documentary And Short Film Festival Of Kerala 2017. I am a film society member
Q: Can you tell us about your life as filmmaker?
A: Before two years I went for a course in film making. There is a film academy in Chennai, which has a branch in Thiruvananthapuram. I went for a course there. It was on weekends. We are given training in pre-production, production and post-production. At the end of the course, every batch of students has to do a film. I chose a Malayalam short story, based on which I did my film.
Q: Who all help you? Or who are the team members?
A: The academy helps us. My batchmates also help me. We work as a group, but the chunk of the work is done by me. I chose the actors and actresses.Mrs.Sajitha Madathil has acted in my film.
Q: Where did you shoot? Budget?
A: Shooting was mostly in Thiruvananthapuram. We have to bear all the expenses. The academy will help us a bit.
Q: What Was The Theme
A: I chose a Malayalam short story, based on which I did my film. This is my first short film. The film was named "DWANDHWAM". This six-minute long film titled DWANDHWAM means DUEL which speaks about the inner conflict of mind. The plot revolves around two characters.
Q: Sir I heard you are on to your second short film. Can you tell us about it?
A: Yes. I also did a second short film DATHAM. Just got the mail that it has been accepted for the short film section of this year's Cannes Film Festival.
Q: Sir can you tell us about your family?
A: Wife HSS Teacher, Son 12 Yrs, Daughter 9 Yrs