Journal Club: Evaluation of hepatic fibrosis: a review from the society of abdominal radiology disease panel
Read the complete article: https://www.ncbi.nlm.nih.gov/pmc/articles/PMC5994771/
Dr. Deepak Jain
Q: Sir, can you tell us briefly about yourself?
A: I belong to Indore in MP. I did my MBBS and MD from GR Medical College, Gwalior. For the last 24 years, I am in Calicut, Kerala. My wife, Dr. Pramila Jain, is MD Microbiologist. I have two kids and both of them are Software engineers. I have an Ultrasound clinic, opposite medical college.
Q:  Sir , Can you tell us about your hobbies?
A:  My hobbies are meditation, healing, preaching, astrology, travelling, reading books, gardening, cooking, singing, dancing, interacting with people from all over the world, trekking and walking. I also like playing chess, table tennis and badminton. I love watching FIFA world cup and movies inspired by true stories. In addition to these, I am a foodie and I love playing with kids and watching their innocence.
Q: Sir, I have heard that you took an initiative to plant saplings several years ago in Calicut, a project which is has increased the green cover around Calicut substantially; Can you tell us about it?
A: I had initiated tree planting in various areas of Calicut. Just as the saying goes – 'As you sow, so you reap', we are still reaping the benefits of what we had sown.
Q: Any other plans in your mind Sir?
A: I am planning to unite the radiologists in Kerala as a family and encourage everyone to have a lot of picnics. My intention is to have 'Fun and Frolic Association' as the nickname of the Radiology club of Kerala. I believe in setting an example for others.
Q: Your future plans?
A:  According to the 5 year plan that I have set for myself, I am targetting to scale the Himalayas and the Alps of Switzerland. Also included in the plan are flight simulation training and sky diving.
Q: What keeps you going?
 A: Discipline, Vegetarian food, No smoking, No alcohol
Q: Any advice for Gen next?
 A: D3 would be my advice: Determination, Discipline, Devotion.
[Post Scriptum—Dr Deepak Jain would personally plant several thousands of  mango saplings in and around Calicut as a result of which he developed De Quervain's disease]
Journal Club: Magnetic resonance imaging spectrum of perinatal hypoxic ischemic brain injury
Sharing an article published by Dr Binoj Varghese, et al; that was awarded the BEST RESEARCH PAPER published in IJRI 2018, at the National IRIA conference at Chandigarh 2019
1. Indian J Radiol Imaging. 2016 Jul-Sep;26(3):316-327. Magnetic resonance imaging spectrum of perinatal hypoxic-ischemic brain injury. Varghese B, Xavier R, Manoj VC, Aneesh MK, Priya PS, Kumar A, Sreenivasan VK.
Erratum in Indian J Radiol Imaging. 2016 Oct-Dec;26(4):530.
Perinatal hypoxic-ischemic brain injury results in neonatal hypoxic-ischemic encephalopathy and serious long-term neurodevelopmental sequelae. Magnetic resonance imaging (MRI) of the brain is an ideal and safe imaging modality for suspected hypoxic-ischemic injury. The pattern of injury depends on brain maturity at the time of insult, severity of hypotension, and duration of insult. Time of imaging after the insult influences the imaging findings. Mild to moderate hypoperfusion results in germinal matrix hemorrhages and periventricular leukomalacia in preterm neonates and parasagittal watershed territory infarcts in full-term neonates. Severe insult preferentially damages the deep gray matter in both term and preterm infants. However, associated frequent perirolandic injury is seen in term neonates. MRI is useful in establishing the clinical diagnosis, assessing the severity of injury, and thereby prognosticating the outcome. Familiarity with imaging spectrum and insight into factors affecting the injury will enlighten the radiologist to provide an appropriate diagnosis.
DOI: 10.4103/0971-3026.190421 PMCID: PMC5036328 PMID: 27857456
Read complete article:
AIUM Official Statement: Guidelines for cleaning external and internal use ultrasound transducers between patients, safe handling and use of ultrasound coupling gel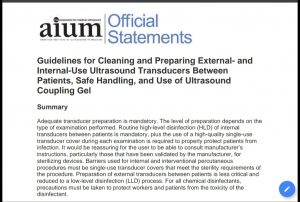 Read the complete article: Guidelines_Cleaning_Preparing
Online Course Resource-Writing a paper: Module 5- Introduction
In previous modules, we have looked at choosing words, constructing effective sentences and effective paragraphs. In this module, we will look at constructing an effective introduction for your research manuscript.
Journal Club: Artefacts and pitfalls in MR imaging of the pelvis
Read the complete article: https://onlinelibrary.wiley.com/doi/full/10.1002/jmri.20996
Journal Club: The inguinal and femoral canals: a step by step approach to accurate sonographic assessment
Journal Club: High prevalence of cervical perineural cysts on cervical spine MRI-Case series
CITATION: Gossner J. High prevalence of cervical perineural cysts on cervical spine MRI. Int J Anat Var. 2018;11(1): 18-19.
ABSTRACT
The Cervical perineural (Tarlov) cysts have been reported to be a rare occurance. The frequency, distribution and possible clinical relevance of such perineural cyst in the cervical spine were studied. In a retrospective review of
41 patients undergoing cervical spine MRI 6 patients showed perineural cysts (14%). Size ranged from 4 to 12 mm and the lower cervical was predominantly affected. The reported clinical symptoms could not be correlated to the found perineural cysts. Cervical perineural cysts seem to be a common asymtomatic incidental finding. The rare diagnosis of a symptomatic perineural cyst should be made with caution and is a diagnosis of exclusion.
READ THE COMPLETE ARTICLE: high-prevalence-of-cervical-perineural-cysts-on-cervical-spine-mri
Journal Club: From Inguinal Hernias to Spermatic Cord Lipomas: Pearls, Pitfalls, and Mimics of Abdominal and Pelvic Hernias
Citation: Miguel C. Cabarrus, MD, Benjamin M. Yeh, MD, Andrew S. Phelps, MD, Jao J. Ou, MD, PhD, Spencer C. Behr, MD. RadioGraphics 2017; 37:2063–2082.  https://doi.org/10.1148/rg.2017170070
Abdominal and pelvic hernias may be indolent and detected incidentally, manifest acutely with pain and distress, or cause chronic discomfort. Physical examination findings are often ambiguous and insufficient for optimal triage. Therefore, accurate anatomic delineation and identification of complications are critical for effective treatment planning. Imaging, particularly computed tomography, provides a vital understanding of the hernia's location and size, involved viscera, and severity of associated complications. Reader familiarity with the imaging appearances and anatomic landmarks of hernias is important for correct diagnosis, which may impact preoperative planning and reduce morbidity. This article reviews the appearance of anatomic structures in the abdominal wall and pelvis that are important for diagnosing common and uncommon abdominal and pelvic hernias, and it highlights key imaging features that are helpful for differentiating hernias, mimics, and their complications.
Online Course Resource: Writing a Paper (Module 4)- Paragraphs
Sharing a resource on the construction of effective paragraphs. A manuscript is a collection of paragraphs and writing effective paragraphs with effective transitions between paragraphs add value to the manuscript.